Calypso Magically Prepares A Feast For Her Lover Odysseus
This is an excerpt from Odysseus-The Epic Myth of the Hero, an original, novel length, narrative poem by Marc Ladewig, published by Infinity Publishing.com. The goddess Calypso magically prepares a feast for Odysseus, a Greek hero of the Trojan War who fought off every Trojan warrior out to claim the corpse of Achilles and who wandered for ten years after the sack of the city. Upon losing all the men he led from home to war, he washed up alone upon Calypso's isle and languished as her captive lover for seven years.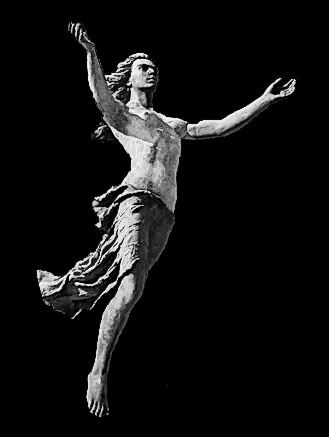 By will alone, the nymph imposed her thought

upon thin air and shaped a meal of spitted lamb

and golden apples, wine they call the blood

of bulls and bread like mother baked.
Calypso took her place and female slaves

in open breasted Cretan garments

then set out ambrosia and cups of nectar

for her, for the gods enjoy the smell

of mortal human food but not the taste.
They bowed their heads to one another

and reached for this rich feast with both their hands,

dark eye never taking leave of blue,

and enduring Odysseus addressed

his mega-hearted soul in wonderment.
"Nothing but kindness in her eyes, and though

this board she's set for me each night for years,

almost as many as I spent around

the walls of Troy, I wonder still just how

she makes it come to be. She laughs when I

accuse her of theft, of spiriting

some poor king's meal away from frightened servants

forced to face their master's hungry wrath,

clanging empty pots and pans. She laughs when I

suggest that something came from nothing.

She laughs, but softer, when I wonder if

she changes air itself to meat and wine

and bread and fruit. Is that the secret of the gods?

That anything can shift its shape to any

other thing with deathless knowledge? Learning all

would make a man a god? She only laughs,

as do musicians asked to bare their source

of natural talent in a word.
"This meat is good, but lambs from Ithaca

are savory in ways that take a lot

of grass near home in spring to make. This wine

is good, but grapes of Ithaca yield juice

that takes more time to come of age than just

a heartbeat. This bread is good, but grain

from Ithaca has the taste of that

dear land that gave me birth.
"Don't the blessed gods yet tire of tinkering

with fate and stalling my homecoming then?

She reads my thoughts and so I never

ever need to sing in human voice for her."
This said, and versatile Odysseus

drank his wine and broke his bread in bites.

And once they pleased their souls with meat and drink,

Calypso led him by the hand unto

the nethermost recess of her resplendent cave,

where carved into the living rock were steps

that led up to a nook and spacious bed.